chaos

wrote:

↑

Thu Jan 30, 2020 5:31 pm

With regard to the votes (or lack thereof) in the 2012 election between Romney and Obama:

1. While Evangelicals and Mormons tend to align politically, they do not theologically. That is, many Evangelicals do not see Mormons as Christians. As a result a large number of Evangelicals did not vote (or did not vote for either mainstream candidate).

2. Romney alienated a large segment of the population with these comments just before the elections:

In his remarks, Romney used broad strokes to characterize millions of people who he said solidly support President Barack Obama.

"There are 47 percent of the people who will vote for the president no matter what," Romney said in the video. "All right, there are 47 percent who are with him, who are dependent upon government, who believe that they are victims, who believe the government has a responsibility to care for them, who believe that they are entitled to health care, to food, to housing, to you-name-it. That that's an entitlement. And the government should give it to them. And they will vote for this president no matter what.

"And I mean the president starts out with 48, 49 percent … he starts off with a huge number," Romney continued. "These are people who pay no income tax. Forty-seven percent of Americans pay no income tax. So our message of low taxes doesn't connect. So he'll be out there talking about tax cuts for the rich. I mean, that's what they sell every four years. And so my job is is not to worry about those people. I'll never convince them that they should take personal responsibility and care for their lives."

With regard to the 2016 election between Clinton and Trump:

1.) The Evangelicals who would not vote for Romney, voted for Trump.

2.) Many Obama voters alienated by Romney were later alienated by the democratic party - for many reasons. The water crisis in Flint, MI is one specific example.

3.)

4.) Bernie supporters were pissed
Alright, some of these points I had not fully considered before. Looking at the arguments I can see why these factors helped Trump but am still not convinced that the Trump win was based on these factors.
He was Trump with no track record of knowing what the hell he was doing....... and he got 62,984,828 votes.
Something more is going on here.....
Now he has 3 years of what would be considered major victories in any other presidency, and oh yes, he still is Trump, but I don't see that mattering a lick.
With regard to the votes (or lack thereof) in the 2012 election between Romney and Obama:
1) Interesting point. I looked up the statistics and found this:
https://www.pewresearch.org/fact-tank/2 ... -analysis/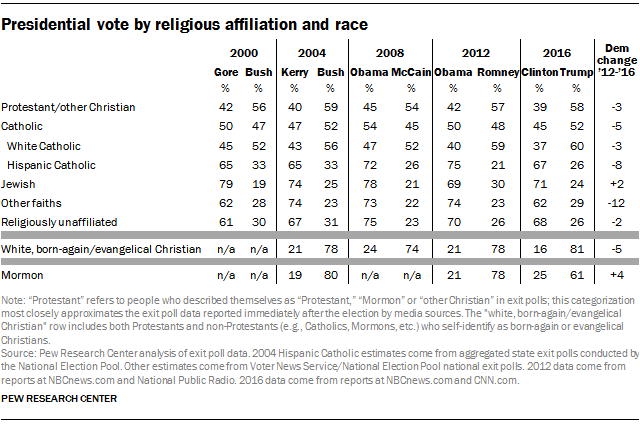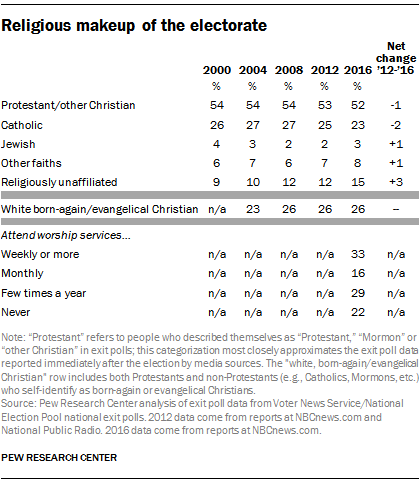 Now if you look at the White Evangelicals vs Mormon statistic for Romney '16 vs Trump '20.
You see a +3% swing for Trump for the Evangelicals
(using back of the napkin math with these statistics that is a 1 million vote increase for Trump. Not insignificant.)
However, you had 17% of Mormons who completely bailed. Which may be statistically insignificant because the vast majority were likely in Utah, which wasn't a factor....
Also you had +4% Catholics swing, another 1 million votes for Trump.
(AND uhhhhhh......... Hispanic Catholics have BIG swing for Trump vs Romney!!!!! This just shows how completely tone deaf the Democratic Party is when it comes to minority votes. They are completely and totally clueless........
)
Finally, where the hell were the non-evangelical Protestants for Clinton???????????????????
A misogynist, philander, accused rapist, foul mouthed asshole who despises the poor......
Most all non-crazy religious folk where abortion is not top priority are unperturbed, or in fact slightly encouraged................... ALL of them!
Outside the Mormons, I'll give them credit.
Something strange going on here, not just about abortion.....
The independent religious folks obviously were not swayed.
2) Well, I would argue this didn't impact any votes from traditional Republicans vs Democrats. Pretty much their premise from the start, just he said it.

With regard to the 2016 election between Clinton and Trump:
1) Alright, I'll give you the Million vote swing... see above.
2) Totally agree with this. Biden is just one more lumbering behemouth Democrat going off the cliff.......
3) I think the important point from kv here, is the classism (the $$$$$$, the crony capitalism) that is not being discussed in an intelligent manner by the media or the vast majority of candidates. Yang, Sanders and Warren being the exception, but they are not connecting with working people....still egghead talk. That does not resonate, obviously. It just reinforces their elite/academic stereotype.
Ask Creep about that if you think that
I
am being the Elite one here...........
4) Uh.....YEAH! Do you think Bernie people voted for Trump the first time? Really? That is HUGE. Like GIGANTIC!!!!!!!!!
If Bernie is forced out, like he is in the process of being right now. This will come back SO hard at Biden. They, Bernie faithful, are looking for revolution. This isn't 2000 anymore with Nader. You will see close to a revolt. Dem Convention will be chaos, think '68, maybe worse.....
That's just what I see happening.